Mushroom Freebies and Cool Things for Sale (more to come soon)
Much content of this web siteis copyrighted and usable only by permission of Bill Russell
We can't accurately determine the color of white or light spore prints on white paper. Nor the color of dark spores on black paper.
Here's the solution: a page of alternating black and white lines.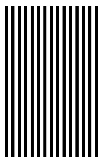 Download this full size page for free and print it out. Cut out the size piece you need to make your spore print.
MAKES THE SPORE COLOR
EASY TO SEE
"Cottonseed meal mixed 4-7 to 1 with lime is an excellent nutritive additive to straw substrates, and it doesn't easily contaminate. Avoid clumping - mix well. Charles Stuart, West Chester OH".
"70% isopropyl alcohol is as efficacious as 90%. It costs less, is easier on the hands and has a lower flash point. Mike Wells, Portland OR."
"Make PDY (potato-dextrose-yeast agar) with 10 g dextrose rather than the normally recommended 20 g and it will contaminate less readily. Rick Gibson, New Freeport PA..."
Download in PDF format now for free
FREE WONDERFUL MUSHROOM GROWING TIPS
Here is a collection of dozens of valuable tips, suggestions, cultivation discoveries, and marketing ideas from some of the most innovative amateur mushroom grower experimenters. If you know the basics of growing mushrooms, such as making agar media plates, growing up spawn, and inoculating growing media with spawn, you will find many useful ideas in this updated 11 page publication.
Here are a few samples from this publication: