MUSHROOM GROWER'S TIPS FREE DOWNLOAD
This is a collection of suggestions, hints and secrets for those who know how to grow mushrooms. These are contributions from creative friends and customers who purchased my MYCOPAC mushroom cultures. This was a system of packaging mushroom tissue cultures that I invented and marketed through my Mushroom Kingdom Laboratories about 10 years ago. I have edited this collection of tips to bring them up to date.
LET'S EXPAND THIS FREE DOWNLOAD. PLEASE SUBMIT YOUR OWN GROWER'S TIPS THAT YOU WOULD LIKE TO SHARE WITH OTHERS. OUR SELECTION BOARD (ME) WILL REVIEW EACH OFFERING'S SUITABILITY FOR INCLUSION. WE'LL KEEP IT FREE.
SUBMIT HERE
All content of this web site is copyrighted (except Ray LaSala's Key) and usable only by permission of Bill Russell
FREE DOWNLOAD!
To make "Field Guide to Wild Mushrooms of Pennsylvania and the Mid-Atlantic" easier to use, here's Ray LaSala's keyed listing of species in the book. Download the file and print it out.
Thanks Ray!!
Mushroom Freebies for Downloading
We can't accurately determine the color of white or light spore prints on white paper. Nor the color of dark spores on black paper.
Here's the solution: a page of alternating black and white lines.
Download this full size page and print it out. Cut out the size piece you need to make your spore print.
MAKES THE SPORE COLOR EASY TO SEE
DOWNLOAD FREE SPORE PRINT PAPER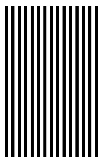 FREE MOVIE
If you have a high speed Internet connection you can watch ATTACK OF THE KILLER MUSHROOMS.
Here's a switcheroo. This is an old-time Japanese classic horror movie about a mushroom that eats people. It's bound to give you sweet dreams all through the mushroom season. If you are looking for sophisticated cinematic art, this is the movie for you.
WATCH IT IF YOU DARE.
Sometimes we get some specials and freebies to offer that are too few in quantity to post for everyone on the Internet. If you would like to know about these when they are available please sign in below for these, and information on up-coming mushroom events. Your address will not be shared.
FREE DOWNLOADABLE
MUSHROOM TEE SHIRT IRON-ONS.
1) Download the free tee shirt transfer page and save it to your computer.
2) Get tee shirt iron-on paper from WalMart computer supplies section or your local computer supply store and print out the downloaded files on the transfer paper.
3) Follow the directions in your tee shirt iron-on paper packet and, with a hot iron, transfer the pictures to white or light colored tee shirts.
Morels
Morchella esculenta