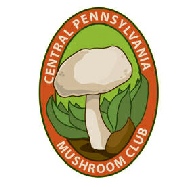 Much of the content of this web site is copyrighted and usable only by permission of Bill Russell
Are you a beginner who wants to learn about edible wild mushrooms?
Are you are a fungus hunter who wants put more delicious wild mushroom species in your basket.?
If you are either of these adventurers, you will find my book worth its weight in gold. It's written for you. And it fits in your pocket.
It covers many mushrooms that you will find in Pennsylvania, the Middle Atlantic, and surrounding states. It's written in simple English that anyone can understand. Reviewers praise it for the ease of use and helpfulness to amateur mushroom hunters.
Buy it now and get ready for the mushroom season. And get one for a mushroomer friend.
For personal and wholesale orders: Penn State University Press
Or get it at your local bookstore, at any of my mushroom presentations, or from these sellers in central PA:
Appalachian Outdoors, 123 South Allen Street, State College PA
Barnes & Noble 365 Benner Pike, State College PA
Belladonna Herbs, 720 Pike St., Lemont PA
Friendship Bookstore, 325 W Freedom Ave Burnham PA
Green Drake Gallery, Millheim PA
Homan's General Store, Potters Mills PA
Nature's Pantry, 2331 Commercial Blvd,State College PA
Otto's Bookstore, 107 W 4th St., Williamsport PA
Shavers Creek Environment Center, 6 miles S of Pine Grove Mills, off Rt 26.
Tait Farm Store, Rt 322, Centre Hall PA
Websters Bookstore Cafe, 133 E. Beaver Ave, State College PA

Would you like to have a wild mushroom talk and/or walk for your group? Contact me.
Want to learn about Mushrooms? Join the
FREE MUSHROOM IDENTIFICATION . RESTARTED.
My Monday wild mushroom identification and discussion sessions at 11:30 AM to 1:00 PM at Websters' Bookstore and Cafe , 133 E. Beaver Ave, State College PA will be begin again on April 10, 2017.
BILL RUSSELL'S 2017 PRESENTATIONS
AND OTHER LOCAL MUSHROOM EVENTS.
Most are free and open to everyone. You can buy signed copies of my mushroom book at any of these events:
Feb 18, Saturday, 1 PM. Central PA Mushroom club at Penn State U's Kneebone Room, Patee Library.
March 25, Saturday, Saturday, 10:45 - 11:30 a.m. "Edible Wild Mushrooms in Your Woodlot". The 3rd Biennial Forest Landowner Conference: Enriching Woodland Values, March 24-25, at the Blair County Convention Center in Altoona, PA.
March 25, 1:00PM. Shiitake log inoculation. Central PA Mushroom club meeting, Lion's Club in Pine Grove Mills, PA
April 17, Monday, at 7 PM. State College, PA. Wild mushroom Presentation to Centre County Master Gardeners. PRIVATE.
April 22, Saturday, at 1:00 PM, Presenataion by Britt Bunyard ,
the owner and publisher of FUNGI magazine. Also include a mushroom identification walk that day. Time and place to be announced. Central PA Mushroom club
May 13th, Saturday, at 1pm at Spring Creek Canyon. Morel hunt. The exact address will be posted at a later date. Central PA Mushroom club
June 4, Sunday 1 PM. Mushroom talk and walk at Canoe Creek Park, near Hollidaysburg, PA.
June 17th, Saturday at 1:00 PM at Parker Dam at Central PA Mushroom club meeting and mushroom walk
July 15th Saturday at 1 PM at Reeds Gap State Park, Central PA Mushroom club
August 11, 12, and 13th, Bill Russell Foray at Lock Haven University's Sieg Center near Lamar, PA. We will post more information.
Aug. 27, Saturday at 1:00 PM. Wild mushroom talk and walk at Greenwood Furnace State Park near Huntingdon, PA.
September 17th, Sunday, at Cook Forest state park at 1 pm. This park has some of the last old growth forest that's left in Pennsylvania. Central PA Mushroom club.
On Sunday October 15th we will be meeting at Prince Gallitzin State park at 1 pm. Central PA Mushroom club
Oct. 16, Sunday, at 1:00 PM, meeting at Whipple Dam State Park, Near State College, PA
October 14, Saturday, 12:00 PM to 4:00 PM. Driftwood, PA ANNUAL MUSHROOM FEST at the Driftwood Saloon and Grill
Nov. 19, Sunday, at 1:00 PM, Bailyville Grange in Pennsylvania Furnace, PA. Central PA Mushroom club meeting, pot luck lunch and a program on keying out mushrooms.
If you are lucky - or a good mushroom hunter - you may find the rare Mousepee Mushroom (Entoloma incanum).
Learn about this strange fungus here.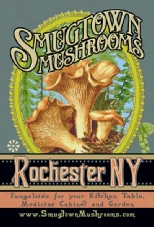 NEW 3 wild mushroom identification pamphlets in full color for beginners. Each pamphlet describes easy-to-identify edible mushroom species in detail . Only $5.00 each, with free shipping and handling through PayPal. (If you don't like to buy things through the Internet, and prefer to order my mail, contact me for an ordering address).
WANT TO MAKE USING MY MUSHROOM BOOK EVEN EASIER?
YOU CAN DOWNLOAD AN INTERACTIVE KEY TO USE IN THE WOODS ON YOUR DIGITAL DEVICE, OR AT YOU DESK ON YOUR COMPUTER.